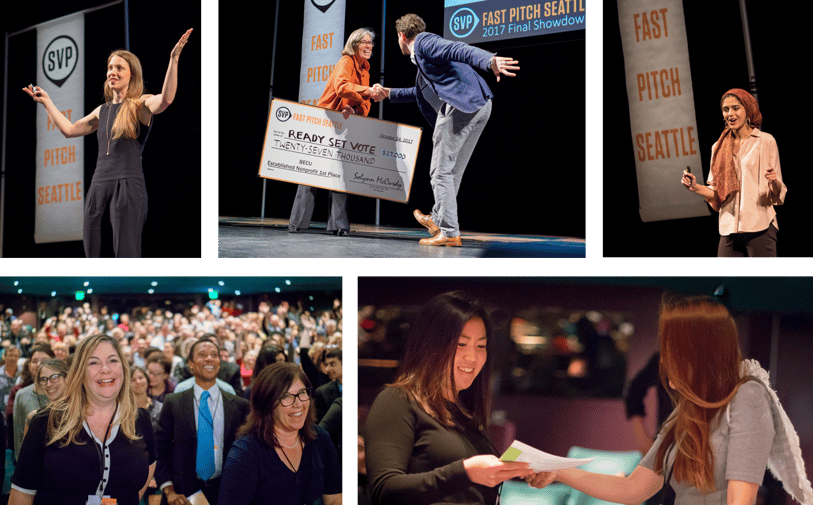 BridgeCare took home 1st Place this year in the For-Profit Impact Company category of the 7th annual SVP Fast Pitch competition held in Seattle. We faced very worthy and impressive competition from the other Fast Pitch Finalists, selected in early October to compete in the grand finale. The level of excellence in pitches across every category was unparalleled thanks to the mentorship and coaching from seasoned SVP volunteers. Our hats off to everyone that competed and, more importantly, that work hard to have a positive impact on our world every day!
Social Ventures Partners is a philanthropic organization that strives to "help build thriving, sustainable and just communities for all". SVP Fast Pitch is just one of their many initiatives to find and promote startups and established organizations, like BridgeCare, and "take their vital work – for kids, for families, for the environment – to the next level".
We're extremely proud to have been selected for the honor, but we also want to call attention to the other great finalists that competed with us. They are all doing great work, and we can't wait to see what comes next for these dynamic organizations. Here's a run down of everyone that shared the stage with us.
Eco-Shelter (1st Place Audience Choice)
Eco-Shelter is a social enterprise with a mission to provide a safe, affordable, and ecological roofing alternative for low-income households in India
LC-Tourniquet Inc (Logan Jacobs)
The world's first pre-hospital treatment of emergencies leading to amputation.
http://www.socialventurepartners.org/seattle/news/meet-2017-finalists-2/
MedsForAll
On a mission to create and distribute affordable auto-injectors to those in low-resource settings by utilizing existing basic medical infrastructure.
https://epi4all.wordpress.com/about/the-problem/
Aware
Through Aware both teens and elementary school students are educated about special needs in an interactive way, effectively removing stigma and giving everyone equal social opportunity.
https://awarespecialneeds.wixsite.com/aware
InflammAid (1st Place High School)
A non-profit organization dedicated to equipping both medical professionals and citizens with the resources and knowledge to reduce sepsis mortality.
https://inflammaid.wordpress.com/
SwarmFX
"We are developing an autonomous surveillance system for wildfire firefighting, allowing real-time mapping of the wildfire and local terrain, and providing vital live stream information to incident commanders."
HandiMaps (1st Place University)
A technology brand aiming to gain independence for its users, providing knowledge on accessible travel in any event space.
Âdi Collective
"A clothing line Inspired by friendships with Washington's refugee community, Adi Collective was created to harness the tenacious spirit and creative skills of refugee women.
The name Âdi Co. comes from the Persian word for ordinary – عادی. Our vision is to cherish and connect the ordinary women of our communities with one another through our collection – whether making or wearing these pieces."
Seattle Clemency Project
A technology brand aiming to gain independence for its users, providing knowledge on accessible travel in any event space.
http://www.seattleclemencyproject.org/
Unloop (1st Place Startup Nonprofit)
Partners with area community colleges to offer coding and web development training, support and opportunity for students in the WA state prison system.
Washington State Association of Head Start and ECEAP
The Early Learning Chess Initiative uses the game of chess to teach Washington State's low-income children the necessary math and social emotional skills needed to be kindergarten ready.
https://wsaheadstarteceap.com/
Art with Heart
"For 20 years, Art with Heart has been on a mission to help children overcome trauma through creative expression. We are the nonprofit organization behindOodles of Doodles,Chill & Spilland other evidence-based, therapeutic books and programs that help children struggling through illness, divorce, violence, or the loss of someone important to them."
Ready Set Vote (1st Place Established Nonprofit)
"The easiest, fastest way to decide how you will vote. Create a personalized ballot guide and view recommendations from sources that you trust. You'll be ready to vote quickly, easily and with total confidence."
Read more
What is SVP Fast Pitch?
http://www.socialventurepartners.org/seattle/fast-pitch/
Meet the Finalists - BridgeCare Finance
http://www.socialventurepartners.org/seattle/news/meet-2017-finalists-bridgecare-finance/
See a recap of all with finalists and awards.
http://www.socialventurepartners.org/seattle/news/congratulations-2017-winners/